FA director of women's football predicts diversity shift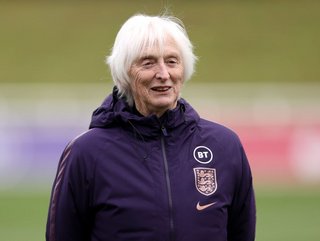 Credit: Getty Images/Naomi Baker/Staff
Baroness Sue Campbell, director of women's football at FA, is confident in plans to increase the diversity talent pool at the top end of women's football
The FA has set plans to increase the diversity talent pool in women's football, hoping to double the number of players by the end of 2023-24, through the existing talent programme.
To do so, the FA will introduce a wider national network called Emerging Talent Centres, funded by the Premier League, to encourage more girls aged eight to 16 to take up the sport.
Baroness Sue Campbell, the FA's director of women's football, has shared that she believes that the plans will create a "significant shift" in diversity at the top end of women's football.
"I think I described the old talent pathway like a very narrow tube, and what we're now trying to do is widen the base and push the top up," Sue says.
Encouraging more girls to join the sport
The recent plans follow the 'Discover My Talent' project, which was launched during summer 2021, as a direct intervention programme. The programme works with the EFL Trusts in inner-city and urban areas, to provide nominated young girls with the opportunity to show off their skills, to potentially become a future Lioness. The programme has been specifically designed to give young girls the opportunity to join a club, who either haven't had the chance or didn't know how to.
The newly launched Emerging Talent Centres is the next step. Currently with 70 centres, the FA is planning to open more, to make the programme more accessible to everyone.
"We do know we need to get more diverse and inclusive in the women's game and the reason we haven't in the past is we just haven't had the resources," Sue added. "We don't have academies in every club because we can't afford them. We've had a good system based on the money we've had available to us. We've now got additional money, which is allowing us to broaden that base and reach."
Sue expressed that she is "confident" that the new plans will boost the diversity in women's football. She says: "Like all things, it doesn't happen overnight, because you're picking up young talent at this point and it's a long journey then to get to the Super League teams. But I am confident."