Gender gap in the metaverse has led to fewer women leaders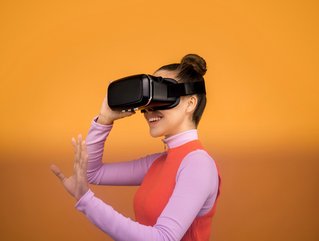 Photo by Sound On
A recent report from McKinsey found that women have been locked out of leadership roles in the metaverse, even though there are more female users
To many, the metaverse still remains somewhat of a mystery.
Often thought of as an 'extra layer' of the internet, the metaverse allows users to fully immerse themselves in 3D experience through augmented reality (AR) and virtual reality (VR). Yet as the metaverse is still in its early stages of development – meaning its future will be shaped by investors and CEOs – many are questioning the roles women will play in its existence.
A recent report from McKinsey found the gender gap in the metaverse is similar to the gap present in start-ups and Fortune 500 companies, where less than 10% of CEOs are women, only 17% of venture capital (VC) dollars go to women-led and women co-led start-ups and only 15% of VC general partners in the US are women.
"We saw a shortfall, not in terms of women participating in the metaverse, but in having leadership roles that shape what this looks like in the next 5-10 years," Lareina Yee, a senior partner at McKinsey in the Bay Area office shared.
More women are in the metaverse
As with the tech sector, CEO and entrepreneurial capital roles in the metaverse are disproportionately reserved for men, even though women are shown to spend more time in the protometaverse than men.
As a result, 35% of women surveyed are power users, meaning they spend more than three hours a week in the metaverse, compared with 29% of men. In addition, 41% of women had used a primary metaverse platform for more than a year, compared with 34%of men.
Data shows that women also use the metaverse for a wider variety of activities, including fitness, gaming, education and shopping via AR/VR technologies while engaging in hybrid use cases in the metaverse. In comparison, men tend to use the metaverse for purely digital experiences, such as trading non-fungible tokens (NFTs) and gaming.
Women are spearheading the metaverse
"As we have noted, female consumers and executives are more proactive about metaverse usage and initiatives than male consumers and executives, yet women are still locked out of leadership roles in the metaverse economy," the McKinsey report states. "Our research shows that in the past five years, male-led metaverse companies received a higher share of total entrepreneurial funding than female-led metaverse companies."
However, only 8-10% of organisations shaping the metaverse are led by female executives, compared to 90% which are led by men. Yet of the 450 female executives surveyed, 60% share that they have implemented more than two metaverse-related initiatives in their organisation. In addition, these women are 20% more likely to implement multiple metaverse initiatives, specifically related to employee learning, design and marketing.
Although men currently occupy more leadership positions in the metaverse, it's of paramount importance that the gender gap is addressed and corrected. Describing women as a "powerful metaverse user base", companies, stakeholders and investors need to encourage a broader range of diverse voices to take up leadership roles in the metaverse while it's in its early development stages.