Good news Friday, easyJet and women at the World Cup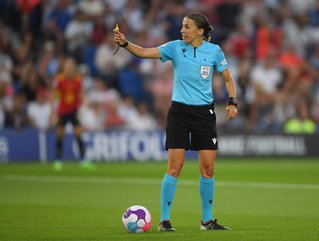 Credit: Getty Images/Harriet Lander
This week, we celebrate easyJet's recruitment drive, the all-female panel at the World Cup & Stephanie Frappart, the first female to officiate a men's game
It's a woman's game
Stephanie Frappart has become the first female referee to officiate a game at the men's World Cup Qatar 2022. The 38-year-old referee officiated the game between Germany and Costa Rica.
Stephanie explains that she hopes that having more female referees in the FIFA Qatar World Cup will "make things happen", commenting: "It's a strong sign from FIFA and the authorities to have women referees in that country."
Recruitment drive
Airline easyJet has launched a new recruitment drive to encourage individuals over the age of 45 to join its cabin crews. Over the past four years, the airline has seen a 27% increase in crew aged 45 and a 30% increase in over-60s in the past year.
Michael Brown, director of cabin services for easyJet, said: "Our people are at the heart of everything we do and it's the warm welcome and fantastic customer service that our cabin crew are famous for."
Power panel
ITV selected an all-female on-screen panel for the FIFA men's World Cup 2022 for the
first time ever. The panel consisted of Seema Jaswal, Karen Carney and Eni Aluko, who reported on Poland v Saudi Arabia at the Education City Stadium in Doha, Qatar.