Good news Friday, Maserati, Anna May Wong, Alex Scott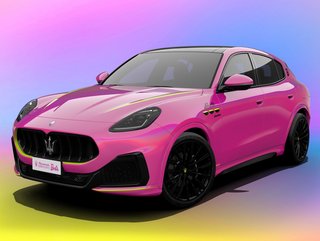 Credit: Maserati
This week, we celebrate Maserati's new collaboration with Mattel's Barbie, Alex Scott's new book and Anna May Wong becoming the face of the US quarter coin
Barbie's Maserati
Italian luxury icon Maserati has unveiled a collaboration with Mattel, Inc.'s Barbie, by launching an SUV which is almost entirely pink.
The unlikely duo joined forces to collaborate, driven by the mutual desire to break boundaries and showcase the unique flair of both brands.
Mattel will donate 10% of the Barbie x Maserati Grecale Trofeo SUV sales to the Barbie Dream Gap Project page on GoFundMe.org.
American Women Quarters Programme
Anna May Wong will become the first Asian American to appear on US currency when the US Mint releases the new quarters.
The release of the new coin is part of the American Women Quarters Programme, which will include five women to be featured on quarters every year from 2022 through 2025.
Anna May rose to stardom against all odds, to feature in over 60 films during a career that spanned multiple decades. During this time, she dispelled stereotypes and called for greater representation of Asian people in Hollywood.
"Why is it that the screen Chinese is nearly always the villain of the piece, and so cruel a villain – murderous, treacherous, a snake in the grass. We are not like that," she said in a 1933 interview with the Los Angeles Times.
Domestic abuse donations
Former Arsenal and England football player Alex Scott has shared that the sales from her autobiography, 'How (Not) To Be Strong' will go to Refuge – the UK's largest domestic abuse organisation.
"When I did the interview with BBC Woman's Hour it occurred to me, in that moment, what I had to do was to help other women and children in the same position in any way I can." Alex shared through a post on Instagram and Twitter.
"I have since spoken with Refuge and learned all about what they do to help women and children. Thanks to all your support, I wanted to let you all know that all of the book sales will be going to the charity. My mum and I will work alongside them to continue to try and help do all we can to raise as much awareness on this subject as possible."