Karishma Gupta, creating circular fashion through Satatland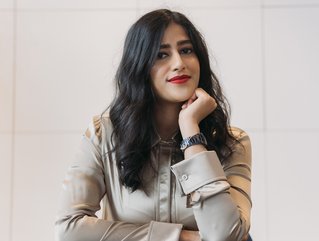 Karishma Gupta
Satatland founder Karishma Gupta decided to launch a circular fashion brand to combat fast fashion after seeing the devastating effects first hand
Karishma Gupta is a fashion technologist and founder of Satatland, a circular fashion brand based in London, UK.
With 10 years of experience in the fashion industry, she has worked with textile and apparel manufacturers in the East and retailers in the West. Karishma has witnessed firsthand the devastating effect of producing more clothes than we consume on the environment, including our land and rivers, and during her time working with sustainable brands, she became disillusioned upon seeing their clothes still piling up in landfills.
We caught up with Karishma to find out more about her thoughts on fast fashion and sustainability.
Hi Karishma, what inspired you to launch Satatland Circular Fashion?
Launching Satatland was an evolution of my own personal values. In 2018, I completed my Master's from the London College of Fashion in Fashion Entrepreneurship. I had a specialisation in circular fashion business models, but I couldn't put the benefits of the circular economy into practice, as I was only looking at the rental or resale of already existing products.
In my project, I found that rental and resale by themselves won't make a dent in the destructive fashion industry.
When and why did sustainable fashion become important to you?
In 2020, I decided to move back to India to set up the supply chain. On my daily travels to the manufacturer, I used to see a landfill named "Ghazipur Landfill" in New Delhi. It is almost twice the height of Tower Bridge, and seeing it became a key turning point in my life.
And this is just one landfill which I have seen myself, there are many more hidden away around the world. About 100 billion clothes are produced annually and less than 1% are recycled back into new clothing. It is estimated that 85% of all clothes produced annually are incinerated or landfilled every year. That's one truckload of clothes every second.
But the problem is also two-sided, our clothes allow us to express our individuality. Consumers like you and me want to put our best foot forward and want new clothes, it has been a part of our human society since the beginning of time. Today 1-in-3 women consider clothes to be old after wearing them just twice. Therefore, the industry needs to keep pushing new designs and new collections every week.
As a next-generation fashion professional, I didn't want to add more piles of clothes on top of this landfill but to create a solution that works for both consumers and the industry.
This is how I came to believe that through a fully integrated Circular Economy based approach we can solve the problems we created. We have a powerful opportunity to reverse
the trends of declining sustainability in our world, where already 53% of British consumers rank sustainability as highly important
I thought, what if? What if we provided consumers with a trustworthy brand that allows them to make their own decisions and rewards them for returning their purchase? This thought is how I decided to launch Satatland.
What do you hope to achieve through the business?
With Satatland I aim to create a closed-loop system for fashion production and consumption. Which simply means: a system in which no waste is generated; everything is shared, repaired, reused, or recycled. We don't need to further exploit our planet for more resources
Once we have created and excelled in this system, I want to help other brands in the industry to make this transition.
How does Satatland Circular Fashion use technology to make a sustainable change?
At Satatland, we use tech in two ways to make a sustainable change:
Firstly, at the product level, we use RFIDs on all our rental products to measure their durability and performance. With this first-hand data, we aim to build better and long-lasting products.
Secondly, with our e-comm platform: We have a fully integrated website that gives consumers a single-page view of products, where they can choose to rent or buy, thus allowing them to make their own decision. If they chose to buy the product from us, they can send it back for up to 50% back in-store credits. They can track your orders and collect rewards. Our platform enables us to deliver a complete circular consumer experience.
Please share one of your greatest career highlights.
One of my most remarkable career highlights has been being selected for the Virgin Startup Collective impact accelerator. I grew 10x as a founder just by being in their programme. It was a great experience where I met fellow founders who are driven to make an impact on our sustainable future. The programme opened multiple pathways for us as a startup and we received a shoutout from Sir Richard Branson himself.
Likewise, what has been your greatest challenge?
The greatest challenge has been being a diverse female founder. In a male-dominated startup world where female founders get less than 2% of all VC funding, being able to get my foot through the door has been a challenge. The social and racial homogeneity of the industry perpetuates a cycle of male founders receiving the most funding.
What advice do you wish you could give your 15-year-old self?
One piece of advice I could give to my 15 year-old-self would be: "Dear Karishma, please go after what you believe in as soon as possible irrespective of who comes on this journey with you. There is no advantage to doing it later. The sooner you go after your dreams, the sooner you will achieve them."