Rising Star: Charlotte Turner, Statement Interiors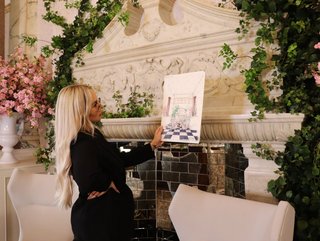 For some, launching a business from nothing feels like a daunting dream. But for Charlotte Turner it was the path she had always imagined for herself
Suave, confident and ambitious are just some of the ways in which you could describe luxury interior designer Charlotte Turner. After six years in business, Charlotte crafted a name for herself by transforming spaces for celebrities, international retailers and high-end restaurants.
Now, she shares her enthusiasm for interior design, while encouraging other girls and women to take the leap of faith and open their own business.
Hi Charlotte! What first piqued your interest in becoming a luxury interior designer?
Even when I was really young, I knew it was the career path for me. I was obsessed with the TV programme Changing Rooms, where someone would let friends or family members renovate a room in their home. So much so that I studied at university. I didn't enjoy it as much as I initially thought as we focused more on commercial properties – I wanted to do houses, even though I was warned it was a harder path (the lecturer said I wouldn't make any money but he was wrong)!
I then began to call companies asking for work experience, always being told 'not today' or 'call again next week'. When I finally landed a job, I thought I would be shadowing someone and adding cushions or accessories here or there, but I was thrown into the deep end and attended celebrity houses on my own in the first week!
When did you decide to make the leap and launch Statement Interiors?
It was always my plan to work for myself, but I knew I had to work my way up in a company to gain the much-needed experience. Whenever I received a new project, I would promise myself that I would start my own company once I had completed it, but then I would get another and another. So, eventually, I felt like I had no choice but to make the jump! I'm a very positive person, so I never worried too much about the plan. People would often ask whether I was scared or what I had lined up, but I always knew that I would be fine on my own.
For the first few years I was working for a number of high-end clients – unfortunately, a lot of them are confidential. But eventually, I got a call from Rosso, one of the best-known restaurants in the north of England. Although it was a huge project, it wasn't something I initially wanted to do, mainly because it's commercial and there's so many laws that you have to consider. However when I met them, they told me they wanted to keep it simple – just a few extra candles and flowers, for example – but, once I showed them my designs, it turned out to be a complete refurbishment.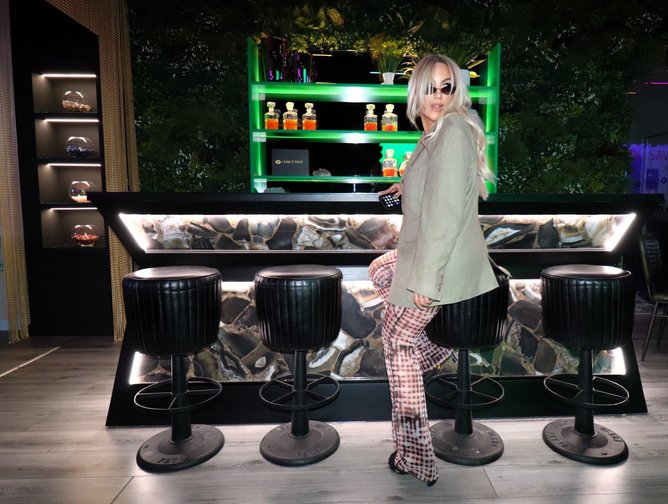 That sounds amazing! What transformations did you make?
It was so important for me to get the concept perfect, and I remember when I got the job, I was sitting in the hospital waiting room as my little brother was having a baby! It was 3AM, and my mum and I were playing with ideas.
As the Rosso building has domed ceilings, we went with the idea of the Sistine Chapel and decorated the restaurant with cupids. For example, in the bathrooms – where everyone takes selfies – there's a big mural of cupids of all different races that reflects as the background of pictures. They loved it so much that they rebranded and put it on all the menus, too.
What have been your greatest challenges?
With any design, you face a lot of bumps in the road, but the most daunting thing for me was realising that I wasn't just dealing with one client – I was dealing with the whole of Manchester, as people love Rosso.
I also redesigned the I SAW IT FIRST headquarters. It was just a warehouse, so I had to make a blank canvas 'wow' for all the bloggers, influencers and celebrities that visit it, as well as the employees that work there every day.
I always say 'every corner is a Kodak moment', so I wanted every inch of the building to be impressive – from floor to ceiling. So, for this design, I created a bespoke wallpaper of clouds and butterflies with a watermark logo, so everyone who takes a video or picture will see the I SAW IT FIRST brand in the background.
What are the greatest challenges you've faced through being the owner of a small business?
When you work for a large company, you usually have someone there to help you out or offer advice if something goes wrong, but as I'm a one-man team, all the pressure falls on me. Likewise, when you've had a bad day in the office, you can leave it behind and enjoy your evening, but for me, it doesn't stop. Saying that, I absolutely love my job and I wouldn't change it for the world, but when little things go wrong it's high stakes. It's hard to learn how to deal with this pressure, and everyone will have different methods. For me, I just cry!
Finally, what advice would you give to other girls and women looking to start their own business?
I'm a big believer in the old saying: "It's not what you know, it's who you know". For this reason, I think networking is so important. I'd also say make yourself irreplaceable and unique – do something that will make people remember you. For example, I'm known for turning up to building sites in tracksuit bottoms and with messy hair and doughnuts for the builders.
I also cry and then manifest a better day and say my gratitude and come back strong ready to attack the obstacle! Other than that, I would say work hard and keep your eye on the prize through setting short-term and long-term goals. Anything you screw up on, turn it into a golden rule and make sure you learn from it. That's one way you can ensure you're always positive.