Rising Star: Lauren and Sarah Murrell, By Sarah London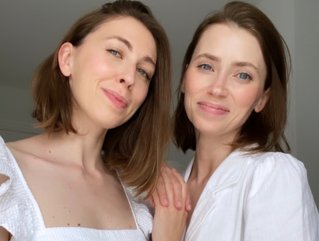 Months of chemotherapy caused Lauren Murrell's skin to become sensitive, so her sister made it her mission to create a product to restore post-cancer skin
After Lauren Murrell was diagnosed with an aggressive form of leukaemia, her sister Sarah developed natural formulations to ease her sore and sensitive skin. Lauren and Sarah are now the co-founders of By Sarah London, the UK's first independently-owned, solely female-founded skincare brand to have achieved B Corp status. Together, they're empowering everyone to feel confident and comfortable in their own skin.
Hi Lauren, please tell us about By Sarah London and the moving story behind the brand.
During my final year at law school, I was diagnosed with an aggressive form of leukaemia – with only a 20% chance of survival. During months of intensive chemotherapy (which didn't work), total body irradiation and a stem cell transplant, my skin became very sensitive and reacted to many skincare ranges. My sister, Sarah, not only became my life-saving stem cell donor, but she also formulated natural skincare to help restore my sensitive, post-cancer skin.
Years later, Sarah and I teamed up to launch the business with Sarah's original formulations, which have gone on to become our multi-award-winning collection with over 20 industry-leading awards, featured in Vogue, The Times, ELLE and more, as well as recently becoming a certified B Corporation.
We've grown the business from our hearts, and now have a big ambition for millions of people to feel confident in their skin.
How did having such a serious illness impact your life, and how has this now impacted your career?
Thrust into months of protective isolation overnight (due to my extremely low immune system), my world was turned upside down and I had to quickly adapt to my new world of hospitalisation. It was very challenging and I had to accept this new change quickly.
I developed my positive mindset and reinforced affirmations to "keep strong, keep really strong" as my hair started to fall out and treatment began, before Sarah cut my hair and we donated it to charity. It was a long and bumpy road to recovery. With many setbacks and hospital visits to deal with the collateral damage of so much cancer treatment.
It took two years before I returned to some degree of normality and could return to law school and begin my career. I manifested my dream of working overseas – before a category 5 hurricane blew me back to the UK, which was the perfect storm that led to Sarah and I leaving our corporate jobs and launching By Sarah London together. I never planned to be an entrepreneur, but it's the best decision I've ever made – filled with challenges and rewards in equal measure!
It sounds as if the By Sarah London brand was a saving grace. How did the products transform your skin?
Sarah meticulously sourced and formulated with the highest quality organic, cold-pressed plant oils, which were rich in omegas and essential lipids to help restore my sensitive skin. Our Hero Facial Oil was Sarah's first formula. Critically, she didn't use fragrance, essential oils, or any drying alcohols or SLS, which can trigger further sensitivities.
Sarah's formulations were a revelation for me: I could use products on my face and body that were a joy to use, with none of the itchings or stinging that had plagued my skin for months. On a scientific level, Sarah's formulas restored my compromised skin barrier and boosted my skin microbiome, making it more resilient and healthy.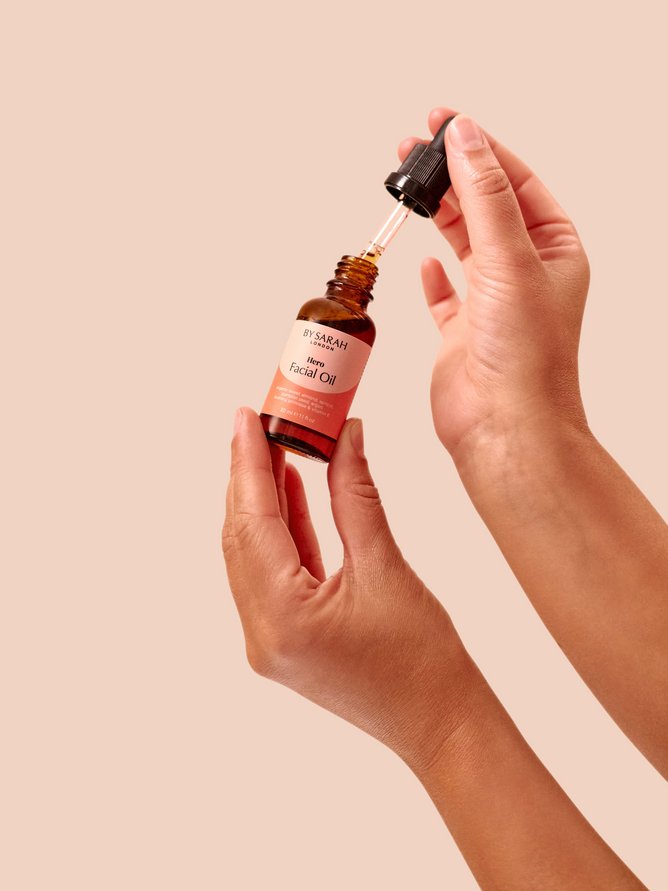 With so many beauty and skincare products on the market, how do you ensure By Sarah London stands out?
Rooted in our authentic founding story, we formulate with the most sensitive, stressed skin in mind. We have thousands of 5-star reviews from customers sharing their transformative skin stories with us and it's incredible to see!
We know who we serve and our natural skincare delivers on its promise of making people feel good – with naturally effective ingredients that deliver results, like upcycled raspberry seed oil in our Balancer Oil-to-milk Cleanser, which is formulated with raspberry seeds that are saved from landfill and cold-pressed into the high performing plant oil we use, with 20% more antioxidants than its standard counterpart. Better for your skin, better for the planet.
We also hear By Sarah London is B Corp certified. Why was this an important move for you?
We are the first UK independently-owned and solely female-founded skincare brand to have achieved B Corp status. Joining the B Corp family was a huge accomplishment as we have been committed to people and the planet from the very beginning, and it really is the gold standard for sustainability in business. It's independent validation that a business meets high standards of verified performance, accountability, and transparency on factors from employee benefits and charitable giving, to supply chain practices and input materials. Using our business as a force for good aligns with our founding values and desire to have a positive impact on the world.
You and your sister have seen great success – what has been your secret?
We've been on such a journey as sisters and we are deeply motivated to make a difference. We genuinely enjoy supporting our community with the best in British skincare and making people feel good in their skin. The learning curve of being an entrepreneur is steep but we've leaned into that, stretching what we thought was possible and surprising ourselves with the results. It's a lot of hard work but deeply rewarding, too!
If you could give other budding entrepreneurs a piece of advice, what would it be?
Know why you want to start the business in the first place. You'll hear founders telling you how hard it is to run a business – and they're right; it takes every ounce of energy, passion, resilience and determination to keep going. So be clear on why you're about to dedicate your life to this before you quit your day job. Once you're clear on that, it will help ease you over all the bumps and hurdles you'll face and, hopefully, get you to the destination you're shooting for, whether that's an artisan business to support your local community or the next powerhouse in global beauty.
It sounds as if this is just the start for you both. What does the future hold for By Sarah London?
Our ambition is for millions of people to feel confident in their skin and to use our By Sarah London skincare to help people achieve this. We have big growth plans in the works, starting with two new product launches, a special B Corp collaboration this Christmas and expanding into retail next year. It's an incredibly exciting time at By Sarah London and we can't wait to take the brand to more people around the world. We've only just begun!