Meet Peony Li, the rebel improving women's bladder care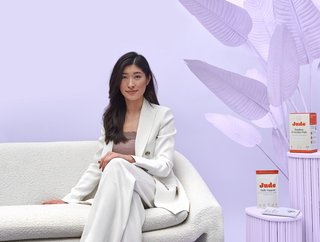 Peony Li
Peony Li, self-professed rebel and founder of Jude, is on a mission to spark conversations about taboo subjects, while supporting thousands of women
Moving to the UK alone from Hong Kong when she was just 15 years old, Peony Li, founder of Jude, could barely speak three consecutive sentences in English. After having a hard time creating her new life, Peony developed a deep sense of empathy, which sparked her passion to help others. She has since led a number of successful initiatives serving underrepresented communities but has now focused her efforts raising awareness of bladder care – an issue affecting one in three women.
Hi Peony! Please start us off by telling us a little about yourself and your journey.
My first career was in the financial sector, and I quickly realised it wasn't something I enjoyed. I wanted to start a mission-driven business, so I went to the Founder's Factory to learn different types of business models. During my time, I invested in over 60 different companies and fell in love with consumer healthcare, because it's a sector that directly impacts peoples lives.
From there, I joined DAYE as Head of Operations, where I helped the company scale and launch their pain-soothing tampon. Women would contact us to share how we'd changed their lives, which really inspired me and cemented my love for the healthcare industry.
We then entered the pandemic, where I distributed over 6 million pieces of protective equipment to frontline workers in care homes, charities and distribution hubs. Through doing so, I met a lot of women in their 50s who began to share their healthcare problems with me. Bladder care was a recurring theme, not just for people in care homes, but for staff, too. I later found out that 2.3 billion people suffer from overactive bladders worldwide.
So that's when I started Jude, aiming to tackle and smash body taboos, while equipping people to understand the more awkward body parts and allowing them to live their fullest life while being super confident.
We want to know more about Jude – what's your journey been like so far?
It's been amazing. We launched earlier this year in January, and we've already served over 5,000 customers. Our mission is to turn bladder weakness into bladder care and incontinence into a conversation, by representing a community of women who are often overlooked.
Why is it important to encourage more women to discuss these taboo topics?
I read an article the other day, explaining that issues such as menopause get too much media coverage, which is consequently terrifying young women about an issue that won't affect them for years. But I believe that if there is an issue that impacts people, it needs to be spoken about. If we don't speak about taboo subjects, how do we find solutions? How do we equip ourselves mentally and physically? Because we saw topics such as periods, menopause and bladder health as taboo subjects, we're now seeing the consequences, decades on.
You've obviously achieved a number of milestones throughout your career. What particularly stands out to you?
Jude is definitely a great achievement because it's helped me develop my mission in life, which is helping underserved communities. I've found myself doing this unintentionally throughout my career, as I love being a rebel and speaking about taboo topics that others are either too afraid to or don't necessarily agree with. Jude has therefore been a way for me to consolidate my skill sets, while being able to demonstrate why this industry is important to me.
On the flip side of that, what would you say has been your biggest challenge?
Doing something that others don't agree with requires a lot of courage, so I guess it's been a challenge trying to know which feedback to take on-board and which to ignore. For example, when I was fundraising for Jude, some investors told me that the target market didn't have enough spending power, that it "wasn't the time" to prioritise bladder care, or that it wasn't a "sexy enough" issue. I had to evaluate which feedback I wanted to listen to, and I came to my own conclusion that I didn't care whether it was a sexy issue – I cared that it needed bringing up. After that, I continued to be a rebel and ensured that I wouldn't get beaten down by feedback.
So what advice would you give to other women who are facing these challenges but are too afraid to talk about it or don't know how to start the conversation?
Join a community. The power of people coming together in a non-judgmental community is so important. So find one that makes you feel heard and supported. That was actually one of the first things we did at Jude; now we have around 700 women who have shared their stories and tips on how to cope with bladder leaks.
So what does the future look like, for both you and Jude?
Jude is on a mission to bring science and conversations into body taboos we don't talk about. From leaks, urge to go, UTI to prostate, Jude is creating a "below the waist, above the knees" health category.
I want to keep the conversation going and find other taboo health areas to talk about. We want to crack the code, to encourage more women to talk about these topics to make positive change, while still having fun. So everything from low libidos to sleep issues – we want to tackle the stigma around health issues to bring a new perspective to the table.