Secondhand clothing is 70x more sustainable than new clothes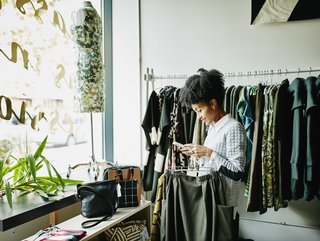 Credit: Getty Images
EURIC commissioned a life-cycle assessment to find secondhand garments 70x more sustainable than buying new clothes, calling for a global recycling plea
Secondhand clothing has been found to have an environmental impact 70 times lower than new garments, according to a new life-cycle assessment (LCA) commissioned by EURIC.
The report calls for the secondhand fashion industry to receive greater investments in global textile recycling facilities, as purchasing secondhand garments is still more sustainable, even when accounting for global exports for reuse, such as transport emissions.
Why is secondhand clothing more sustainable than new garments?
Secondhand clothing emits drastically fewer CO2 emissions and produces less water waste. The report shares that a "massive" saving of 3KG of CO2 is saved for every medium-to-high-quality reused garment.
Earlier this year, the EU launched its Strategy for Sustainable Textiles which includes a requirement for member states to start collecting textiles separately by 2025.
Mariska Boer, President of EURIC Textiles explains: "Regrettably, around 62% of used clothing and textiles end up in household waste meaning valuable textiles are likely to be incinerated or landfilled. The European textile reuse and recycling industry envisages a circular textile value chain where every piece of clothing is reused in an optimal way and/or recycled.
"This study endorses the environmental benefits of a global market for textile reuse and recycling's potential to tackle the rising amounts of low-quality and non-reusable clothing."
As EURIC points out, its study confirms waste hierarchy assumptions regarding the environmental advantages of reuse versus recycling when it comes to low-quality clothing, which is commonly composed of polyester.
Encouraging a more sustainable planet
As a result of the report, EURIC wishes to share its recommendations with policymakers and encourage investments in innovative textile recycling facilities around the globe.
To achieve this, EURIC highlights the importance of eco-design criteria to enhance the lifespan of clothing and thus ensure consumers are able to get more wear out of the product.
To support this initiative, the European Fashion Alliance (EFA) compiled a list of actions to support and encourage more sustainable practices for the European fashion industry. To do so, they look to create priority-driven policy frameworks to support sustainable industries.