Simone Biles to release confidence-boosting activewear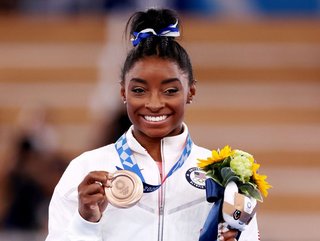 Credit: Getty Images/Jamie Squire
The 25-year-old gymnast is set to expand her partnership with Athleta to offer a signature line of clothing to promote confidence in girls aged 6-12
American gymnast Simone Biles has teamed up with Athleta to create her own signature line of activewear, which will debut through sister brand Athleta Girl.
The collection features 16 pieces made using a mixture of matte and shine fabrics, all priced from US$15-$95. The collection includes: a tunic, longline bra, reversible vest, shorts, sweatshirts, and accessories, such as a duffle bag and scrunchies.
The collection, which will launch April 19, includes hidden mantras chosen by Simone that have helped her throughout her career. Garments will be available in a range of Simone's favourite colours, and all will be versatile, appropriate for many different settings. The line specifically aims to promote confidence in girls, and to help them overcome body image challenges.
When commenting on why she targeted the collection to the 6-12 years age group, Simone said: "I think they're at a really vulnerable time when they don't believe in themselves. So, they need us to believe in them so that it gives them that one up. It makes them believe in themselves even more."
Mary Beth Laughton, President and Chief Executive Officer of Athleta comments: "Since its [Athleta] launch in 2016, we've strategically scaled Athleta Girl into a powerhouse category for our brand and a key contributor to our plan to reach US$2bn in net sales by 2023. Simone is the perfect partner for us to help empower girls to find their inner strength in school, sports, and play and we're thrilled to launch this Athleta Girl collection with her."
How does the range promote body confidence?
Through the range, Simone aims to increase the confidence of young girls, who are often subjected to unrealistic body images and beauty standards through the media. In fact, a recent study based in Ontario, Canada, found that half of teenagers felt unhappy about their weight and preadolescents shared the desire to be 'thin'.
Understanding these stresses, Simone comments: "It could be a really exciting time or it could be a really scary time, so that's why we do what we do. That's why we work with these kids and for these girls."
To ensure the range is inclusive to all girls, Simone and Athleta have created a broad range of sizes. Simone says: "For size, we have 6x all the way to 12. So, I think that's a great size range for the kids because that's when they're growing the most. That's when they feel almost the most insecure, but these clothes are made to make them feel like they can do anything they put their mind to."

The range will be made available online, or in Athleta stores from April 19.