Trailblazer: Anna Brailsford, CEO of Code First Girls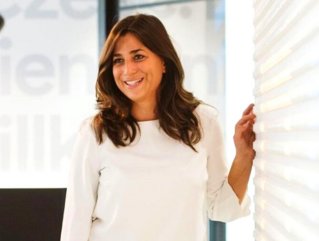 We spoke to Anna Brailsford to find out more about her mission of welcoming girls and women into the world of technology and coding
As in any industry, a lack of diversity amongst employees causes a one-minded way of thinking, resulting in decreased productivity and a lack of creative and innovative solutions when it comes to problem-solving.
In the technology sector, diversity is crucial in the creation of artificial intelligence (AI) and machine learning systems that replicate human decision-making. As AI only learns what people show it, a lack of diversity can really limit its effectiveness. In prioritising diversity, algorithms learn better and more accurate information that's useful for real-world applications.
But of course, there are huge opportunities for girls and women, too. Tech jobs offer higher starting salaries than many other industries and independent analysis suggests tech as a profession offers more social mobility than medicine and law. We should be doing everything we can to help women access these professional opportunities.
Code First Girls recently organised a survey, which found 80% of respondents said that a career in tech was neither mentioned nor encouraged when they were at school. That's why we provide free, virtual and accessible coding education, which means our learners can fit their studies flexibly around their lives – removing barriers for those in full-time education, work or with caring responsibilities. Code First Girls partner with more than 100 businesses including Rolls-Royce, NatWest, and GCHQ to get more women into an industry that is facing a major skills gap and desperately needs more diversity in the workforce.
And it's not just gender diversity that Code First Girls is tackling. Whilst women make up 21% of the tech industry, black women make up less than 3%. There are also economic and regional inequalities too, with 27% of our community eligible for free school meals.
Although it's hard to ignore the glass ceiling we face as women, it's important to put aside any fear. Whilst coding, technology and STEM may be entirely new and unknown to women considering a career change, there's no need to be afraid. There are many transferable skills that can help when it comes to coding, including innovative thinking, attention to detail, patience and communication.
It's also important to take advantage of coding communities and network with like-minded women to get the support you need. Whether it's a technical question or an industry query, speaking to other women can help you to boost your learning and achieve your career goals, as they are likely to have experienced some of the same issues.
Words: Anna Brailsford