US women's national soccer team wins equal pay lawsuit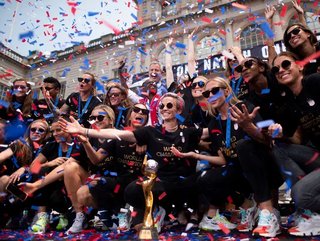 Johannes Eisele/AFP via Getty Images
Alex Morgan and Megan Rapinoe are just two of the pioneering women to help the US Women's National Soccer team settled the class action equal pay lawsuit
Achieving equal pay has been an ongoing battle for the US Women's National team (USWNT), but they have finally reached a proposed settlement in the equal pay lawsuit against the US Soccer Federation, for a total of $24 million.
The US Soccer Federation has agreed to pay a lump sum of US$22mn to USWNT players, who came to an agreement with the court on how the money would be distributed. USWNT players will also receive a fund of US$2mn for post-career goals and charitable contributions — each player can apply for up to US$50,000.
In a joint statement, both parties commented: "We are pleased to announce that, contingent on the negotiation of a new collective bargaining agreement, we will have resolved our longstanding dispute over equal pay and proudly stand together in a shared commitment to advancing equality in soccer."
An equal rate of pay between the men's and women's national senior teams in all friendlies and tournaments has also been promised by the federation.
Chain reaction
Alex Morgan, Megan Rapinoe, Carli Lloyd, Becky Sauerbrunn and Hope Solo are the high-profile members of USWNT who filed the initial legal dispute in 2016. The five reported that women are paid thousands of dollars less than men at nearly every level of the competition, despite superior performances on the field. This encouraged 28 players to sue US Soccer in March 2019.
In 2020, a federal judge dismissed the claims that men and women soccer players achieved the same work for different pay, while arguing that there was a difference in the structure of the men's and women's contracts.
The USWNT players filed an appeal in July 2021, stating that the rates of pay and the ability to achieve bonuses were overlooked by the judge.
Growing women's soccer
The settlement is contingent on a new collective bargaining agreement being ratified by the USWNT Players Association. The district court will then be able to schedule final approval of the settlement.
Megan Rapinoe, captain of the Seattle-based OL Reign said: "We feel like this is a huge win — obviously contingent upon the ratification of the CBA — but it will have equal pay on everything moving forward.
"It's honestly kind of surreal. I feel like I need to take a step back. We've all been in the trenches of it for so long. I think I honestly don't even understand how monumental this is."