8 women who stole the show at the Golden Globes 2023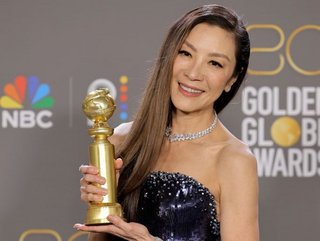 Michelle Yeoh, Credit: Getty Images/ Amy Sussman / Staff
From Michelle Yeoh to Jennifer Coolidge, we highlight eight exceptional women who were celebrated at last night's Golden Globes 2023
Michelle Yeoh
Malaysian star Michelle Yeoh bagged an award for her starring role in Everything Everywhere All At Once. People in Asia and Asian Americans have shown particular support for her win, with many claiming it will boost her chance of winning an Oscar.
During her acceptance speech, Michelle said: "I remember when I first came to Hollywood. It was a dream come true until I got here, because, look at this face. I came here and was told, 'You are a minority'.
"This is also for all the shoulders I have (stood) on, all who came before me who look like me, and all who are going on this journey with me forward."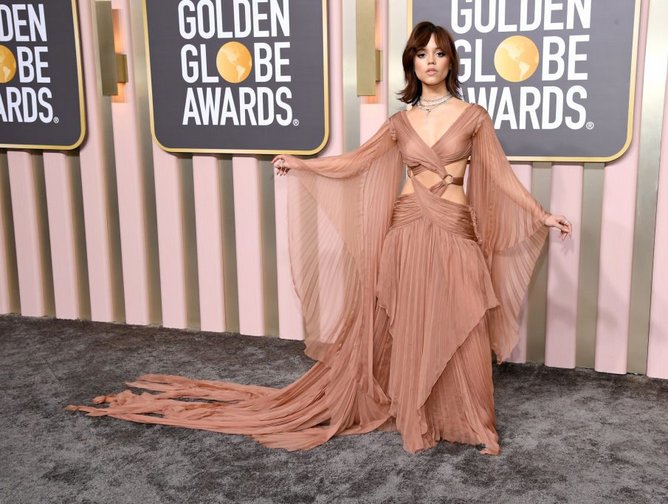 Jenna Ortega, Credit: Getty Images/ Jon Kapaloff / Staff
Jenna Ortega
After shooting to fame for her role in Netflix's new series Wednesday, Jenna Ortega wowed crowds with her Golden Globe appearance. Taking a time-out from her usual gothic style, Jenna stepped out in a tanned Gucci Grecian goddess, which featured cut-out detailing on the torso and floating sleeves.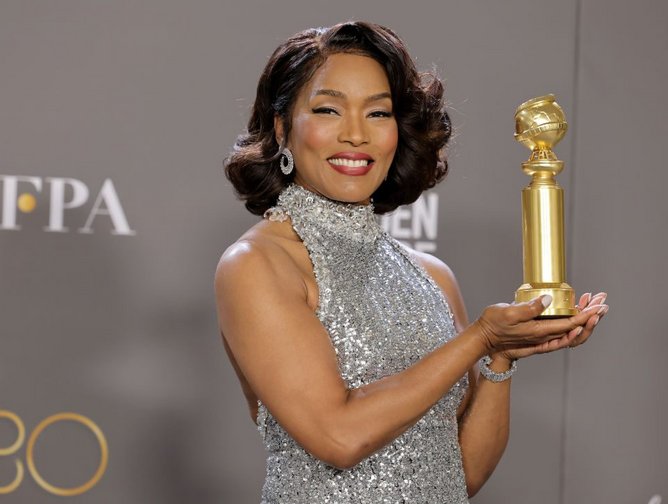 Angela Bassett, Credit: Getty Images/ Amy Sussman / Staff
Angela Bassett
Dressed in a long, silver, Pamella Roland gown, Angela Bassett took home an award for Best Supporting Actress for her role as Queen Ramonda in Black Panther: Wakanda Forever. By winning the award, Angela became the first actor to win an award for a Marvel Movie.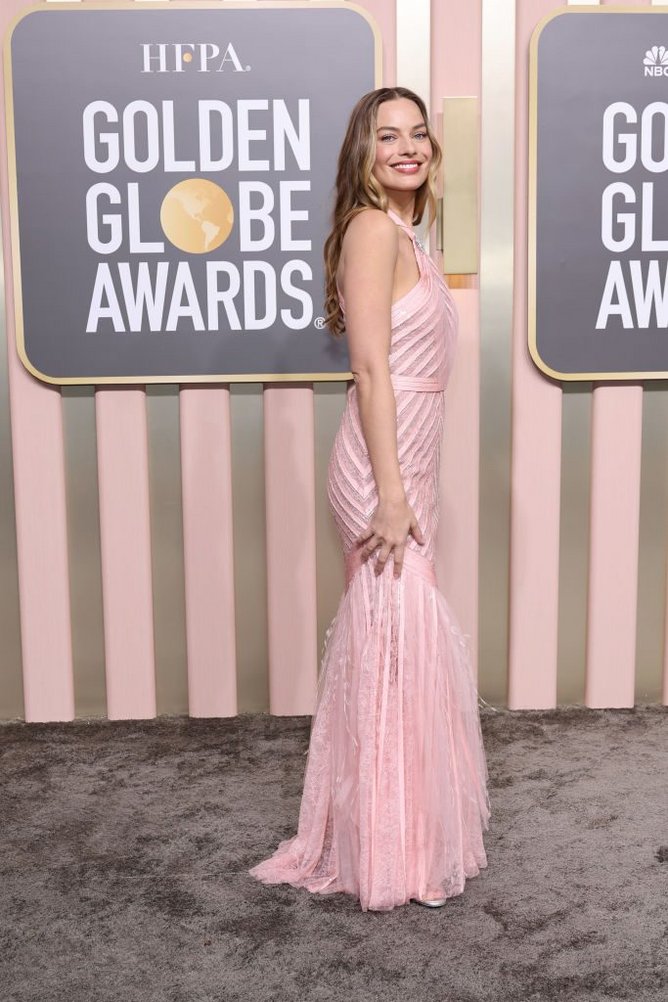 Margot Robbie, Credit: Getty Images/ Amy Sussman / Staff
Margot Robbie
Australian actress Margot Robbie attended the Golden Globes for her performance in Babylon, with five nominations at the ceremony, winning the Best Original Score. Dressed from head to toe in pink, Magot teased her upcoming film Barbie, in which she will play the leading role, alongside Ryan Gosling.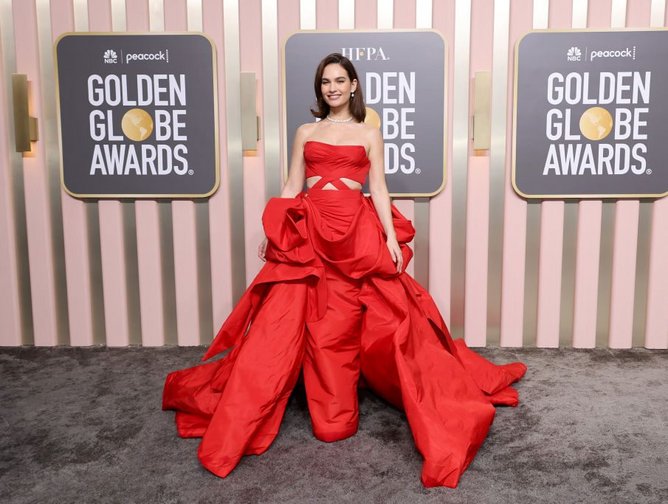 Lily James,Credit: Getty Images/ Amy Sussman / Staff
Lily James
Lily James stunned the crowds in her red Versace gown, which was the same colour as the swimsuit she wore while playing Pamela Anderson in Pam & Tommy – the role which earned her the Golden Globe nomination.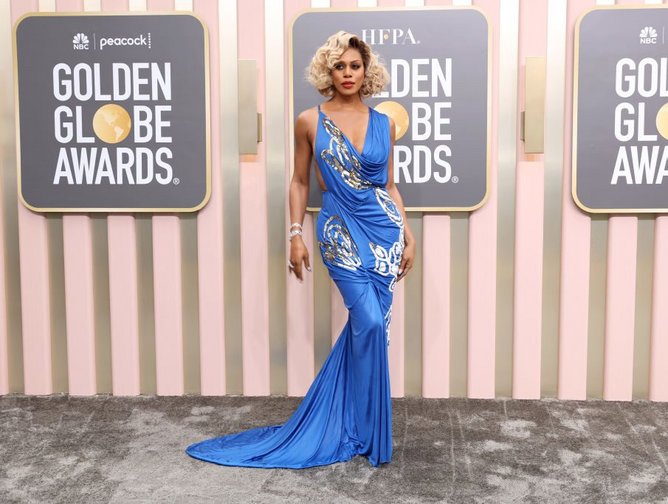 Laverne Cox, Credit: Getty Images/ Amy Sussman / Staff
Laverne Cox
Flaunting a blonde-bombshell look, Laverne Cox took to the carpet in a cobalt blue dress, which featured gold detailing and a flattering cowl neck. Laverne delivered an 'old Hollywood' style, as she hosted this year's "Live From E!: Golden Globes," alongside Loni Love.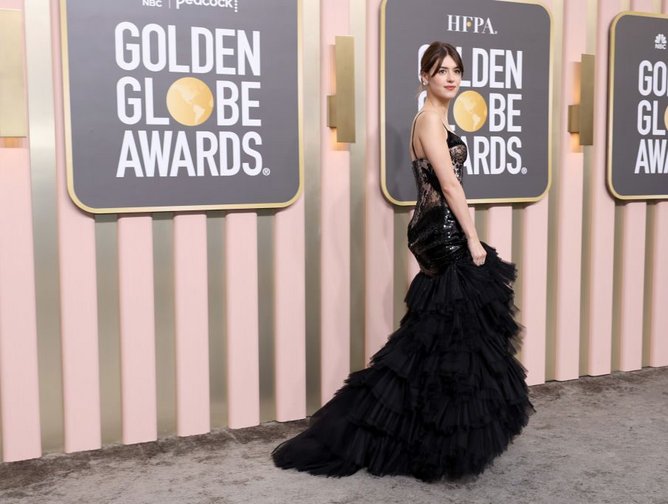 Daisy Edgar-Jones, Credit: Getty Images/ Amy Sussman / Staff
Daisy Edgar-Jones
Twenty-four-year-old Daisy Edgar-Jones took a leaf from Jenna Ortega's book, as she donned a gothic dress by Gucci. The former Cold Feet actress attended the award ceremony as she was nominated for her role in Under the Banner of Heaven.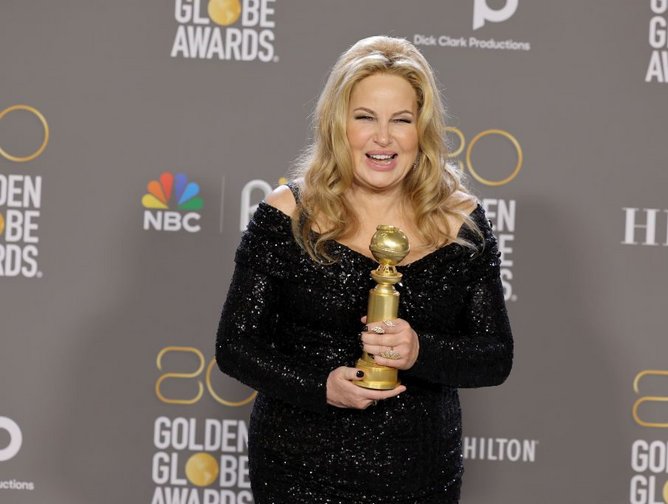 Jennifer Coolidge, Credit: Getty Images/ Amy Sussman / Staff
Jennifer Coolidge
When presenting and accepting an award, Jennifer Coolidge well and truly stole the show at last night's ceremony.
In her hilarious acceptance speech for winning Best Supporting Actress, Jennifer said: "You've given me a new beginning. Even if this is the end, because you did kill me off, but it doesn't matter. Even if this is the end, you changed my life in a million different ways.
"My neighbours are speaking to me and things like that. I mean it. I was never invited to one party on my hill, and now everyone's inviting me. I just – you know, it's to you, Mike White.