Dominnique Karetsos, sexual health and technology expert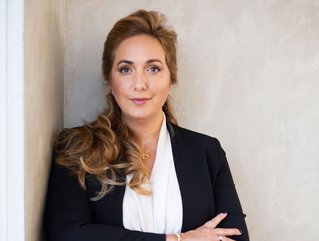 Dominnique Karetsos
Dominnique Karetsos, CEO of The Healthy Pleasure Group, is on a mission to create behavioural change in the way we view sexual health and technology
We sat down with Dominnique Karetsos, CEO and Co-founder of Healthy Pleasure Group, to find out more about her fascinating career in the sexual health and technology industry. She also told us more about Healthy Pleasure Group, a pioneering collective that seeks to define, reshape and revolutionise the sexual empowerment of all generations and pave the way for healthy sexuality and healthy pleasure for everyone.
Hi Dominnique, tell us about yourself and the Healthy Pleasure Group
I've worked in more than 30 markets globally helping start-ups and market leaders across beauty, retail and health improve and increase their sales, marketing and distribution channels.
I spent the past 20 years advising brands such as Lelo, L'Oreal and Cutler and Gross. But it was over eight years ago when I found my real calling in the sexual health and technology industry, seeking out, investing in and sitting on the boards of some of the most successful businesses in sexual health and technology when they were startups. During this time, I have faced continual resistance each time I spoke with a venture capitalist, a journalist or a C-suite executive who showed prejudice towards one of the oldest industries in the world.
With a team of sexual health and technology advisors, specialists and experts, Healthy Pleasure Group is the only global outfit dedicated to the future of sexual health and technology. As CEO, I oversee the four businesses that complete the collective: The Agency, The Lab, The Demand and our VC Fund partnership, Amboy Street Ventures.
With predictions that authoritative digital content as an industry will be worth $250m by 2024, we drive education in our industry via HP Agency, helping brands tackle the daily challenges of learning in an exclusively censored digital landscape. We bring innovation from Healthy Pleasure Lab, with a consistent creation of next-generation IP developed by world-leading Urologist and Head of Sexual Medicine, Dr Mafe Peraza Godoy. We put products in the hands of millions of consumers with HP Demand, our global commercial business. Finally, Amboy Street Ventures, our VC Fund partnership, is spearheading the advancement of investment in women's health and sexual health exclusively.
What inspired you to launch Healthy Pleasure Group?
Having worked in the sexual health and technology industry for almost ten years, I realised just how disconnected the world was, as far as business was concerned, when it came to understanding the most innate human experience: pleasure. At the same time, I faced continual resistance from businesses. Telephones would be put down on me. I'd be asked to leave the boardroom. I would be asked to come and talk about a product without saying the word sex. It took three years to put Intimina's Menstrual Cups on the shelves of Boots.
When you scratch beneath the surface, you start to identify that systemic issues go way beyond the patriarchy. It's my personal mission to change how we perceive the autonomy of our bodies. Motherhood and a financially crippling divorce completely debunked my belief system in the autonomy of sex, tax and our bodies as women. We don't know a lot about our autonomy, expression and freedom and we don't ask enough questions. This industry is where we can make a change.
From this, I knew I wanted to commit myself to creating behavioural change in sexual health and technology to enact social change through three vital economic motors; education, innovation and investment. So together with my co-founders, communications expert, Delia Elcock and sexual medicine expert Dr. Mafe Peraza Godoy, we sought to build the SH&T economy of the future and set up a global ecosystem, The Healthy Pleasure Group, that caters for the needs of every business in this space.
What have your greatest career achievements been?
I believe there's no such thing as one greatest achievement. Every day is an achievement! It's in the small daily things: the clients that are happy, the meetings that go well, the teams that feel challenged but supported. I don't want to work towards one stand-out achievement as it means that we just stop striving.
Likewise, I don't like to speak in constant challenges. Everything is a challenge, business is tough! There's a lot of noise in business but nobody wants to live in that space. The real challenge is to reframe or demystify the noise surrounding every business challenge so you can identify the real opportunities hiding within.
What advice would you give to other women considering launching their own company?
Every leader will tell you that they strive for their organisation to be fair and just and equal in everything that it does. But what we do and what we say - how to implement that is a case of considering your own moral compass and that of your broader community and the environment. It's very important that you listen to the people, whether it's the heartbeats within your company, your consumers or your stakeholders.
What would you say has been the secret to your success?
Resilience, persistence and kindness. For myself and with others. This is the currency of our future.