Happity, using technology to support maternal mental health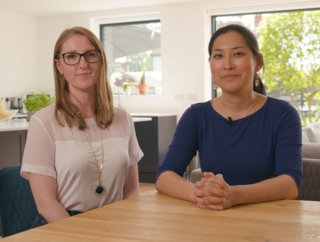 Sara Tateno and Emily Tredget, Co-Founders of Happity, discuss why they made it their mission to create a platform to support news mothers
Making new friends and learning new skills is challenging – especially if you're also adapting to becoming a mother.
After experiencing their own struggles, Sara Tateno and Emily Tredget joined forces to co-found Happity, a platform giving parents access to local classes for children and parents. Now, Happity helps over a million parents each year by allowing them to prioritise their maternal mental health.
We sat down with the pair to discuss their ambitions, advice and thoughts on female funding.
Hi both, tell us a little bit about yourselves and what drew you to the path you're on with Happity?
Sara: Hello! I set up Happity when on maternity leave. I was determined to solve a real problem: the fact there was no technology out there for parents to quickly find and book local parent and child classes. I had previously worked in strategy and business development for over a decade but retrained as a web developer and navigated shared parental leave with my husband and 5-month-old baby to help develop the platform, which connects parents to local classes.
Emily: I was previously a strategy consultant at Booz Allen and went on to manage S&OP at Innocent Drinks. When on maternity leave, I struggled with postnatal depression and anxiety and originally set up a network for parents to meet to make sure they got the help they needed called Mummy Links as well as writing about this for publications such as Huffington Post. Sarah and I came together and decided that with our skills, knowledge and experience of being mums, we could help more parents if we joined forces to get Happity out into the world.
So, how did it all begin?
Sara: Happity was driven by the loneliness and postnatal depression both of us experienced in the early days of becoming mothers. I enrolled in Google Campus for mums and attended a bring-your-baby coding course; followed by a coding boot camp to become a web developer. This allowed Happity to become a reality to connect parents to local services and playgroups. Emily had at the time created a parenting network called Mummy Links so we joined forces to reach as many parents as possible.
Since then, we've grown and survived a pandemic. In July 2022, we successfully completed a crowdfunding campaign to raise over £660k of investment for the platform.
Emily: Happity is also known for its efforts to support maternal mental health; we campaigned during the pandemic to allow access to vital parent and child classes, as well as calling the government to support the baby and toddler activity industry. This saw us being nominated for a Your UK Parliament award for our efforts in changing legislation to allow these groups to stay open.
What's been your greatest achievement as a start-up?
Sara: There's been several! Happity was recently part of the Small Biz 100 and previous accolades include us being nominated for the petition campaign of the year award and me being on the Women in software power list 2021.
The business has had an extraordinary journey, growing from the kitchen table to become the UK's leading platform for the under-5s activity sector. It now lists over 22,000 weekly activities and has generated millions of pounds of additional bookings for the sector.
We're the UK's only platform that's dedicated exclusively to parent and child classes and reaches over a million parents each year. We recently expanded to reach even more parents in need across the UK, now covering 20 cities.
Finally, we have just TwinklHive portfolio, having excitingly successfully closed £800k in seed funding. Other backers include Arfah Farooq, via the Ada Ventures Angel Programme, and the founders of some of the UK's best-known children's activity brands who joined the round via a Crowdcube campaign.
Likewise, what challenges have you had to overcome?
Emily: With Covid-19 playing a huge part in the running of Happity, we experienced the challenge of providing online classes during lockdown. We campaigned heavily during the pandemic to allow access to vital parent and child classes, as well as calling the government to support the baby and toddler activity industry.
Sara: I think the funding question is the biggest problem facing female founders like us. Particularly in the tech sector. We may not have as much access to the technical skills, and so we're less likely to have a technical co-founder. It's a real cyclical problem, as most people who are often investing are often men, which means a lot of us to struggle to find people who both believe in the idea and have the money to fund it.
Myself and Emily have fought tooth and nail to get Happity to where it is today. We've achieved an extraordinary amount and reached milestones that many better-funded companies have not. I know that for many of my fellow underestimated founders, the experience has been similar – and we keep going because of the conviction we have in creating things that need to exist; seeing new opportunities that others have missed.
Emily: It's a catch-22. If women are not getting funding, if they're not building big businesses, then they aren't in a position to reinvest in the next generation. More broadly, fewer women in highly paid leadership roles mean the bulk of wealth is being held predominantly by men – which inevitably means male founders have a better network of capital to draw upon in the early stages of business.
How have you found being a female-only founding team?
Sara: The choices we make as female leaders today matters. We are uniquely placed to inspire the next generation of leaders to invent, create and do things differently. That's not something I'm about to give up on.
Emily: From part-time, flexible and remote working (which all of our roles are), to weekly mindfulness exercises, and even unlimited holidays – we are creating a culture that means our team can bring the best of themselves to work, meaning we are all as effective as we can be, whilst maintaining a balanced home life.
What advice would you give to other women hoping to launch their own businesses?
Emily: Go for it! But be prepared for the hard graft. That's why it's so important to find something you are passionate about – it will be hard work, but when you absolutely love what you do, it doesn't feel like work!
Sara: Finding someone to work with who complements your skill set can also make a real difference. I started Happity, whilst Emily started another app initially, and both of us found that great but quite isolating too. When we came across each other and decided to work together it was a game changer. We could bounce ideas off each other, and bring our different strategies to tackle the same problem together.
Emily: Yes, Sara and I have trodden similar paths before Happity, but our skill sets are very complementary. I'm a big-picture thinker who likes to drive things forward and get things done.
Sara: Whilst I'm more into the detail and ensure that things Emily drives forwards quickly is done in the best way they can be.
What has been the secret to your success?
Sara: Both coming from an economics background, but with huge social motivations, we look at building Happity in a way that we believe ensures everyone benefits – parents, providers and our business. This sometimes means making decisions that perhaps wouldn't be made if we were purely profit-driven, but it helps the sector and builds loyalty.
Emily: Our values at Happity are to be Real, Trustworthy, Caring, Collaborative, and Imperfect (or Human!) and this is how we conduct ourselves within the team as well as outside, and it's something we take really seriously when hiring new team members. We've also ensured we've taken time to walk before we can run. But don't worry, we're up to a jog now, and getting ready to sprint!