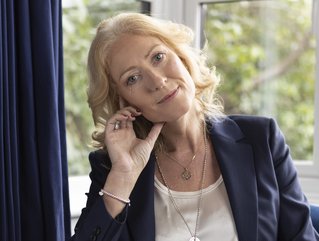 Tiny Box Company CEO Rachel Watkyn
With a strong passion to help others and pursue ethical business, Rachel Watkyn, CEO of Tiny Box Company, shares the story of her inspirational career
Those based in the UK and who are avid watchers of business TV show, Dragon's Den, may recognise Tiny Box Company CEO Rachel Watkyn. After appearing on the show, Rachel has continued to lead her sustainable packaging company to success, but openly shares the bumps she has faced along the way. We spoke with Rachel to find out more about the inspiration behind the company, what it was like to face the dragons and what advice she would pass on to future entrepreneurs.
1. Tell me about yourself and your career so far.
As a child I was always a grafter and knew that eventually I wanted my own business. However, having no idea how to go about it after scraping A levels, I put myself through university and got jobs with John Lewis and then Sage. Aged 29, I suddenly got ill and had to give up work for 4 years, which gave me lots of time to re-evaluate my life and priorities.
2. What influenced you to launch Tiny Box Company?
Before falling ill, I'd worked in Sierra Leone on an EU project and was shocked by the levels of extreme poverty. Whilst recovering from illness, the poverty I'd witnessed continued to taunt me so I formulated an early fair trade jewellery business. The jewellery was to be designed in the UK and then made in third world countries. It was my sister who then highlighted that I would need ethical and sustainable packaging to tie in with my principals, but I simply couldn't find any. I ended up exasperated at a trade fair, where yet again I'd failed to find such packaging, and slid down the wall telling my friend that I would just set up my own box company. That was 14 years ago!
3. Why was it important for you to ensure Tiny Box Company is as sustainable as possible?
As the initial concept was to provide packaging to help workers in third world countries, I couldn't see any logic in putting the jewellery in packaging that was counterproductive in some way. From the outset, the key objectives were to be as ethical and sustainable as possible in everything we do and not just "greenwash".
4. Tell us about your time on Dragon's Den. How did this impact your company?
Dragons Den was scary! I walked in with my business partner expecting friendly warm faces, and was met with 5 very stony faces who clearly meant business (Business tip: always do your research!). It was quite daunting. However, I never expected investment due to not knowing anything about the packaging industry, and because we'd only been trading for 6 months and therefore no real trading history, but Peter Jones and Theo Paphitis said yes. I think they felt very sorry for me! What Dragons Den gave the business was instant credibility and gave us visibility to a wide audience – what could be better than a free 10 minute advert on a mainstream channel.
5. What has been your greatest career challenge?
My greatest career challenge has been battling with ill health whilst trying to push the company forward. During the early years, I pushed my body far too hard, so two years in, I suffered from burnout.
It took about 18 months to get back to health, and then I have been plagued with two episodes of cancer and a tumour in my throat. Trying to keep the business moving forward whilst dealing with each health issue has been extremely difficult, but I have a fantastic team with me and there is no way I could have achieved without their support.
6. Likewise, what has been your greatest career accomplishment?
My greatest career accomplishment has been seeing people join our Tiny team with no qualifications and no self belief, to become senior managers and really excel in what they are doing. Our marketing manager joined the company aged 18 as a customer service advisor, and now heads up a team of nine. Our customer services manager never gained any qualifications at school and joined as warehouse admin. She now heads up a team of 12 and is one of the best managers I've come across.
7. What advice would you give to women starting their entrepreneurial journey?
My biggest advice would be to trust your instinct – if it feels wrong then it probably is. I've always believed in following my gut feelings, but recently got swayed by others in a business decision. The decision turned out to be wrong and has cost money and time (and lawyers) to correct the mistake.
8. What would you say has been the secret to your success?
My secret to success without doubt has been sheer determination and hard work. I'm definitely not the cleverest or the fastest and I'm actually quite risk averse, but if I set my mind to do something, I won't rest until we've achieved it. My other secret to success is having a fantastic team around me and the best husband!