Top 8 women pioneering the fintech industry in 2022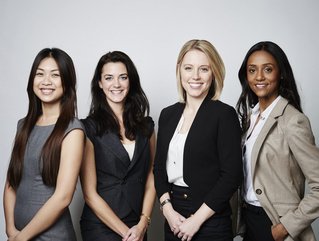 Credit: Getty Images
As we're all about celebrating women leading the way in their fields, today, we want to shine a light on the female leaders driving change and in fintech
With the numbers of women in the boardroom increasing exponentially, the achievements and innovation new female business leaders have brought to FinTech is a cause for celebration. We take a look at the top 8 women in FinTech, as chosen by FinTech Magazine.
08: Mariquit Corcoran
Group Chief Innovation Officer
Based in New York, Mariquit has spent two decades in the financial services industry, holding positions and leading teams in businesses spanning across fixed income, operations, risk management, finance, and banking.
Her current responsibilities include oversight of the global FinTech Accelerator programme at Barclays, designed to fast-track the next generation of FinTech businesses, while bringing innovation and application opportunities to Barclays, and leading the Rise Platform.
07: Ghinwa Baradhi
Chief Information Officer
HSBC
With more than 25 year's of experience across enterprise change management and operational within major international financial services environments, Ghinwa Baradhi is considered one of the top CIO banking leaders globally.
She is an innovative and dynamic executive who excels in leading multi-disciplined, international, virtual resource teams across both the business and IT. She is HSBC's nominated member to the UAE Banks Federation (UBF) IT Committee and is also HSBC's nominated Sponsor for Diversity & Inclusion for Technology globally.
06: Ramandeep Nayar
Chief Financial Officer (CFO), Global Risk
American Express
Ramandeep Nayar joined American Express as an intern in 2007 from positions in General Electric. She graduated from Punjab University, India, and was awarded her MBA in finance from the University of Rochester - Simon Business School in 2008.
With her dynamic approach to business, Ramandeep is also considered a thought leader with experience in developing winning strategies for complex and diverse portfolios across various geographies and lines of business.
05: Vanessa Colella
Head of Innovation and Digital Partnerships
Visa
An academic as much as a business leader, Vanessa Colella is Visa's Head of Innovation and Digital Partnerships. Prior to this role, Vanessa was the Chief Innovation Officer at Citi, where her goal was to accelerate and discover new sources of value by championing innovation.
She gained her Ph.D. from M.I.T.'s Media Lab and also holds Masters' degrees from both Columbia University and M.I.T as well as an S.B. degree in molecular biology from M.I.T.
04: Cristina Junqueira
Co-founder
A qualified engineer, Cristina enjoyed a stratospheric banking career in Brazil's biggest financial institution before becoming disillusioned with a system that she saw as unfairly weighted towards richer customers. Cristina left her job and teamed up with venture capitalist David Vélez and American Edward Wible. In 2013, the dynamic team founded Nubank, which is based in São Paulo and has proved so disruptive that by 2018 it had easily achieved "unicorn" status; in fact, with a valuation of over $10bn, it had surpassed it tenfold.
03: Isabel Jimeno Fernández
Corporation CIO
An impressive and innovative leader in her sphere, Isabel has been the CIO of Santander for almost eight years. Prior to Santander, she was the Directora Infraestructuras at Produban and has gained a market reputation as a dynamic decision-maker and a skilled negotiator. However, her talents are not only to be found in the world of banking. Keenly intellectual, Isabel's background is in technology - and she holds an MSc from CUA University in Washington DC, while her first degree is from the Universidad Complutense, Licenciada en Fisicas.
02: Linda Höglund
Chief Operating Officer
Klarna
Born and raised in Stockholm, Sweden, Linda Höglund returned to Klarna as Chief Operating Officer in 2021 having left to work at Grab, the Singpoerean super-app. Her career began with the BNPL giant in May 2011 as an executive after start her career in finance as an investment banker at Goldman Sachs. When she joined Klarna as CFO, she split her time between Sweden and Singapore. As part of the management team driving the growth and strategy of the company, she was responsible for the global finance function of 50 employees.
01: Emilie Choi
President and Chief Operating Officer
An economics graduate from Johns Hopkins University, Emilie Choi holds a Master of Business Administration degree from the Wharton School of the University of Pennsylvania. A dynamic and innovative business leader, she helped build the Coinbase exchange alongside the company's founder and CEO, Brian Armstrong. Emilie is also a keen angel investor and has taken part in a number of seed, Series A and B funding rounds for a number of successful fintechs.